FAQ
Measuring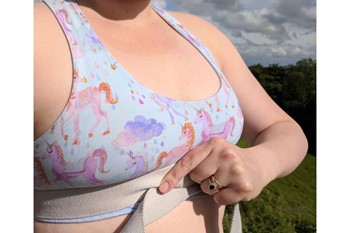 Can you cater for different cup sizes?
Absolutely. I just need your measurements for each side rather than one bust measurement:
Measure from your centre bust going left around to your centre back.
Double that and that is your left bust.
Repeat for your right bust and measure your underbust as normal.
Choose the 'tell me later' size options (after you've chosen your fabric and specific bra product) and then add your measurements in the notes box at checkout.
Where do I measure i.e. What counts as what etc.?
I'm going to do a blog post all about measuring but for now there's the bras blog post for bust and underbust measuring and the other ones you might need are:
waist - your natural waist where you are smallest, usually a couple of inches higher than your tummy button.
hips - your widest part, usually level with your bum.
high hips - where your hip bones are.
My child is slim for their age/has long/short legs can I have a different waist/leg measurement?
Absolutely. Choose the nearest size (the bigger of the two) and add the actual measurements in the notes box.
What do I do if my measurements fall into different categories?
Absolutely. Choose the nearest size (the bigger of the two) and add the actual measurements in the notes box.
How do I know if I want standard or reverse crossover on a bra, top or dress?
I normally do right over left for bras, embrace and freedom tops and dresses.
If you right breast is bigger than your left you'd benefit from left over right to keep it more contained. Basically have the crossover with the opposite one on top to the bigger one.
I struggle to find supportive bras in larger sizes in high street shops. Are you able to accommodate a bigger chest while still giving support?
Yes. I'd recommend the PowerBra upgrade and I also offer free strap alterations should you find you need them when you receive your bra.
Can you do a different shaped neck or longer/shorter sleeves?
Yes, just let me know your preference in the notes box at checkout.
Can you go bigger/smaller than the published size chart?
Usually yes, always feel free to message me first via the contact us form.
Where are the size charts?
Size charts are at the bottom of the description on each product.
How should I measure for the bra if breastfeeding?
Measure at your fullest before a feed and then I can see whether we'd need to size up or down depending on where your measurements are in the size range. The fabric is stretchy so allows for fluctuation.
What height are your items based on? How do I request longer etc?
It depends on the pattern designer, some are based on 5'5" some higher. I have over 100 products and try to add the inseam/relevant length where I can but it can depend on size as well as item so it's easiest for me if you just let me know your preferred shoulder to hem length (for tops and dresses) and/or your preferred inseam (crotch to ankle/where you'd like the item to finish) in the notes box when you checkout.
I'm 5'7" and don't find I need extra length on any items.
Extra length is £1 per inch and I'll contact you if needed to for you to pay via the extras product.
What is the 'tell me later' size option for?
These options are perfect for when you want to place your order so that you're in my sewing queue (my turnaround for custom orders is usually between 6-9 weeks) but know that your size might change by the time your order ships, either due to pregnancy or weight loss. Choose the tell me later size option but make sure you save my email address ([email protected]) and/or message me on facebook so that when I email you it doesn't go into your spam folder.
I'll then email/message you when I'm coming up to your order and you can give me your updated measurements.
Postage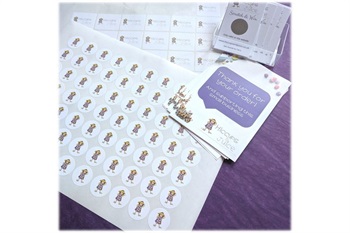 What service do you use for postage?
For UK addresses, I use Royal Mail 1st class.
For international addresses I use Royal Mail international standard but I recommend upgrading to tracked courier for peace of mind.
Can I get a tracking number?
Standard postage is not tracked. If you buy the upgrade to tracked courier then I will email/message you your tracking number when I ship your order.
How is the postage cost calculated?
Postage costs include the cost of shipping and the cost of the paper mailing bag, tissue paper, leaflet and stickers.
Current prices are
UK
1 item £2.30
>1 item £4.10
>£100 £6
>£150 £13
>£350 £20
International
1 item £5.50
>1 item £11
>£100 £16
>£150 £21
> £350 £30
Bras, Pregnancy and Breastfeeding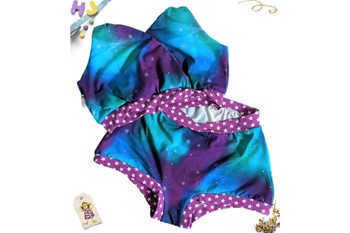 Should I measure differently if I'm wanting it for pregnancy too?
You can still measure as normal but it will be helpful for me if you can add that you're pregnant and your actual measurements in the notes box when you checkout.
As your ribcage expands during pregnancy you'll find you need a bigger underbust size. There is room for fluctuation in the fabric but it may be a good idea to size up in either the cup and/or the band for a comfy fit.
Are the bras suitable if you're not breastfeeding?
Definitely! Comfy colourful happiness is for everyone.
If you don't need them for feeding then you can choose between the scoop or crossed (nursing) front. The nursing style is the most popular regardless of whether you're nursing as it gives more separation than the scoop style.
What is the difference between the PowerBra and normal bra?
Here is Rachael wearing two of her Hiccups&Juice bras, the one on the left has shorter straps and the PowerBra upgrade and the one on the right just has shorter straps. If you have a larger chest I'd recommend the PowerBra upgrade.
It means I add a hidden layer of powernet between the patterned and lining fabric of the cups. Powernet is a stretchy but firm fabric that gives you more support.
The top or dress I like doesnt have a breastfeeding option, can I still have it adapted for breastfeeding?
Sometimes yes, please use the contact us form to check.
Can I breastfeed two children at the same time with the nursing bras/tops/dresses?
Yes absolutely! We had a wonderful photoshoot when Naomi tandem fed her children in her Hiccups&Juice bra and Hiccups Skater Dress.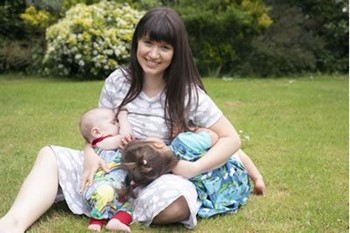 Can you reverse the cross over on the nursing bra?
Yes, just put 'left over right' in the notes box at checkout. I normally do right over left.
Can breastfeeding panels be replaced with none if you don't need them?
Yes, you'll find you can choose the option after you've selected your fabric and product when creating your custom order.
Strap Alterations
How do strap alterations work?
I've always offered free strap alterations at Hiccups&Juice, firstly because the strap style is fixed and secondly because everyone is shaped differently and need different strap lengths.
If you find you need a strap alteration, simply pull the straps up at your shoulders until you feel supported and measure the length of the excess fabric. Pop a note in with your parcel including your name, address and how many inches you'd like taken off and send it back to me using the address on the sewn in label.
Lift straps at shoulders to measure how much is needed to be taken off the length I try to do strap alterations as soon as they arrive but this will depend on how busy I am so they can sometimes take up to a week.
Once you know how many inches you need off (or added to as some people prefer longer straps, particularly if they are tall) you can just add that (e.g. 2 inches off) in the notes box when you order your next bra.
I can also add length to the straps if needed.
I've received my bra and I love it! But I could do with shorter straps and wondered if it was possible to have different length straps on each side?
Absolutely, just let me know how much you'd like off each side and pop a note in your parcel when you send it to me for strap alteration.
I have gained/lost weight do you do alterations?
Depends on the item; it's easy to take the side seams in for a dress or replace the waistband on Juice Joggers or leggings. This would be £5 via extras.
Fabrics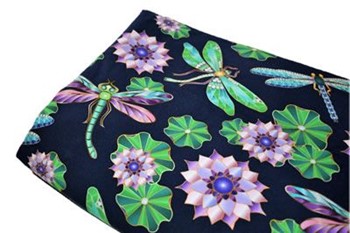 Where can I see the prints with the solids when I need to choose one that compliments it?
This album in the facebook group.
What is the difference between fabric weights/types and are they more suited to different items?
All the information you need is in this fabric types blog post.
Can I combine different fabrics?
Yes absolutely! Choose your main fabric and let me know your other fabric and where you'd like it in the notes box at checkout.
For inspiration, check out different combinations: in the facebook group.
The Juice Ruche is great one for combining fabrics as you can have the underneath crossfront and one sleeve in your contrast fabric.
The Jammin Joggers look fab with different fabrics together too.
My things look amazing, where can I share photos and join other H&J lovers?
Yay! That would be the facebook group, we'd love to see them.
Where can I see more examples of finished pieces?
That would also be in the facebook group.
What do I do if I would like something slightly different from what I see on the website? Like a combination of different fabrics, or more/less length somewhere?
Just let me know your requirements in the notes box at checkout. You can always use the contact us form to send me an email.
Custom Orders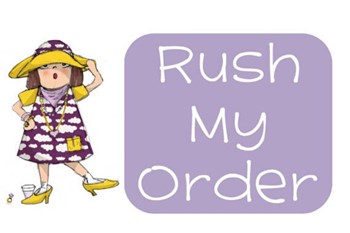 What can I do if I am so excited to order I don't want to wait?
Eeep! You'd need either a rush my order or a #quickupsandjuice slot. Find out more in this blog post.
How do I start a personalised order? Via fabric or product?
Ooh great question; you can do either.
Find a fabric that you love and click 'custom order' and you'll be shown the available products that you can get in that fabric. The website magically sorts through all the products and only shows you the ones that can be made that match the stock level (or lower) of that fabric and fit the available fabric types.
OR
Find the product that you'd like (either via the 'custom orders' tab, searching for it or using the navigation and click 'create custom order' and it will show you the available fabrics for that product.
Once you've chosen your product and fabric you'll get to the sizes/features page where you can select the relevant options and click 'add to basket' and it will show you the price AND when it is due to ship if you purchased today.
How do pre-orders work?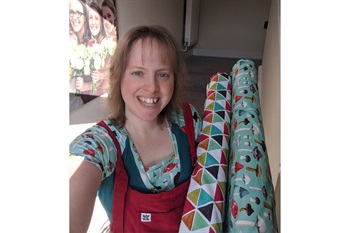 Sometimes I buy fabric because either I need it (e.g. solid colours), I'm restocking it or because I know you'll love it.
As Hiccups&Juice has grown I've developed the pre-order process so that you can either pay in full or buy a deposit and then I order enough fabric to cover those orders. It means I don't have fabric wastage and it means I buy enough for all your lovely orders, particularly dresses as they're very fabric hungry.
Find out more in this blog post.
I saw a fabric that I love, but it says supply is low, will you get more?
Lots of the fabrics can be restocked but some can't. Ask me via the contact us form or check the pre ordered fabrics album in the facebook group.
What is this I hear about a facebook group? What's going on there?
Haha, it's where I share everything that's going on in Hiccups&Juice from what I've sewn that day, upcoming pre-orders, updates on fabric deliveries and lots of people share the Hiccups&Juice happy post too.
Come and join us.
Do you do gift vouchers?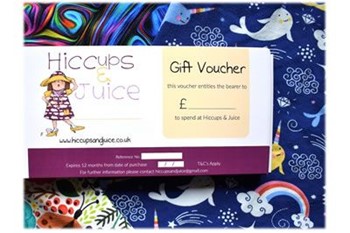 Yes I do. Once you've bought the gift voucher I will send the physical gift certificate in the post as if it is an in stock item, so don't worry that the turnaround time seems longer, it is just because the website sees it as a custom order.
Alternatively I can email you a digital version to send to them instead.
I'll update these FAQ periodically so if there's anything you'd love to know then please use the contact us form.