Bras at Hiccups&Juice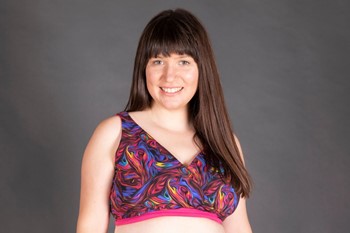 Find out all you need to know about bras at Hiccups&Juice from which style is best for you to measuring and fabric choice too.
Measuring
In order to make your bra, I need your bust and underbust measurements. It's best to measure standing while wearing a bra.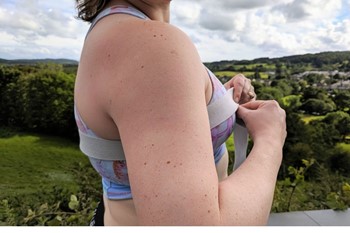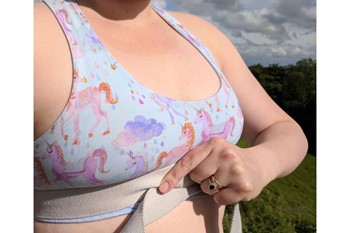 You can view the bra size chart here. I can use any of the cup sizes with any of the band sizes so don't worry if your measurements fall into different size ranges.
If you're pregnant your ribcage expands so your underbust measurement will be bigger than normal and it will go down again once your baby is born.
Due to the nature of the fabric being stretchy (cotton lycra is 95% cotton and 5% lycra) there is flexibility in the cup so if you're breastfeeding you may not need to size up depending on where your bust measurement is in the size range.
If you've got any questions, just send me a message via the contact us page.
Style
There are two bra syles at Hiccups&Juice; crossfront and scoop. I call the crossfront style 'nursing' as that is what the majority of people use it for but it can be used by anyone regardless of whether you are breastfeeding or not.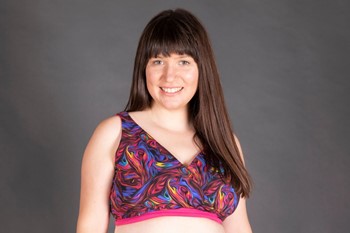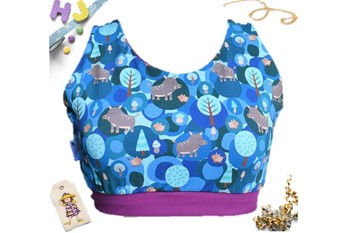 Breastfeeding with your Hiccups&Juice bra is easy; simply pull down the cup to nurse.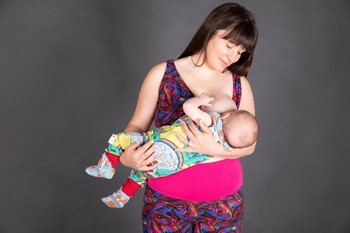 You can choose between straight and crossed straps; by far the most popular choice is straight straps, particularly for those with a larger bust as they distribute the weight more evenly.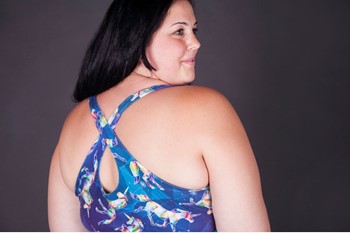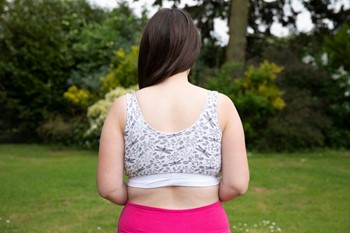 Alterations
I've always offered free strap alterations at Hiccups&Juice, firstly because the strap style is fixed and secondly because everyone is shaped differently and need different strap lengths.
If you find you need a strap alteration, simply pull the straps up at your shoulders until you feel supported and measure the length of the excess fabric. Pop a note in with your parcel including your name, address and how many inches you'd like taken off and send it back to me using the address on the sewn in label.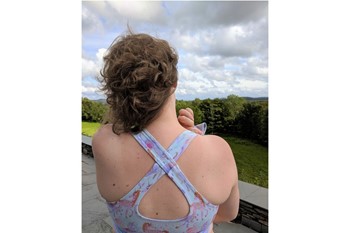 I try to do strap alterations as soon as they arrive but this will depend on how busy I am so they can sometimes take up to a week.
Once you know how many inches you need off (or added to as some people prefer longer strpas, particularly if they are tall) you can just add that (e.g. 2 inches off) in the notes box when you order your next bra.
I can also add length to the straps if needed.
Fabrics
Fabrics are the best part - you get to choose a fabric that suits you. I've got plenty of solid colours as well as the surprise fabric option (which means I'll choose one of the standard fabrics) and you save a bit too. Generally the thicker the fabric the more supportive the garment however some fabrics can be too thick for bras (e.g. softer backed french terry fabrics such as Elephants, Giraffes and Peach Flowers) if you're breastfeeding as you need the full flexibility of the fabric.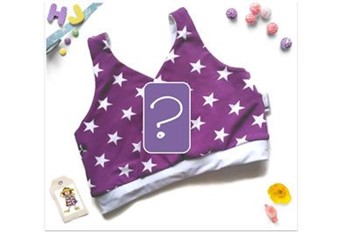 Ochre Meadow, Morning Meadow, Vintage Blooms and Moon Gazing Hares are the lightest weight fabrics I stock at 175gsm (gsm = grams per square metre)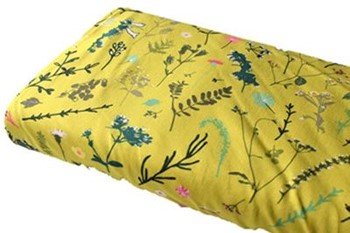 Most of the other fabrics including all the stars and clouds fabrics and other standard fabrics are 220gsm.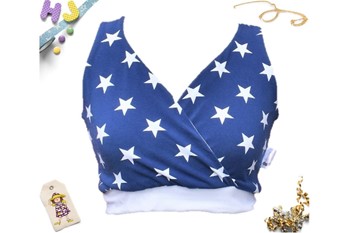 The organic (including the custom printed organic ones) are 220gsm too, these include Rainbowsaurs, Acute Rainbow, Llama Trek and Teal Forest.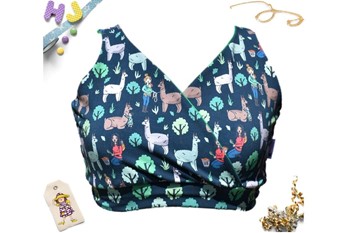 The custom printed fabrics are usually 240gsm which are great for firmness and the cooler weather. These include Sloths and Rainbows, Space Cats and Winter Highland Cows.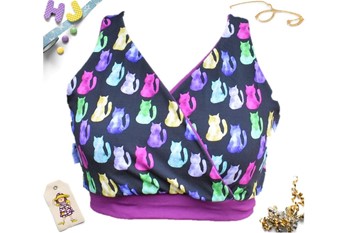 PowerBra
If you want more support and or have a bigger bust I highly recommend choosing the PowerBra upgrade. The PowerBra Upgrade means a hidden layer of powernet is added between the outer (patterned) and lining (solid colour) layers of the cups. Powernet is a firm but stretchy fabric that gives more support where you need it most.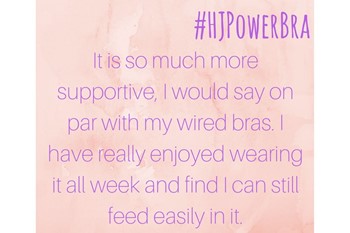 How to order
The bras are separated into styles (nursing and scoop) and fabric types; the 'patterned nursing bra' gives you all of the standard fabric options, 'custom fabric nursing bra' gives you the organic, custom printed and exclusive fabric options. There are solid colour bras and surprise fabric ones too. And if you'd like to make it a set then just choose the 'matching bra and knickers set'.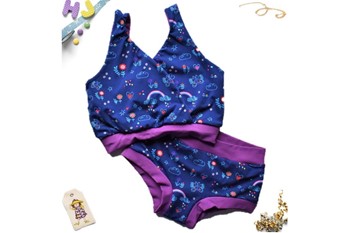 Use the size chart to work out which size you need then click 'create custom order' and choose your fabric. Then you'll select your size and strap style and whether you'd like the PowerBra upgrade and add it to your basket. From there you can see what my current turnaround is and if you need it sooner there is a link to the 'rush my order'. Once you have added any notes that you want to you can checkout and wait for your Hiccups&Juice bra to arrive.
Handmade
Each bra is handmade by me in my sewing studio in Milton Keynes. I buy the fabric, cut, assemble and sew your bra, photograph, pack and ship it to you and you get a parcel of happiness made just for you to your measurements and you're supporting a small business too.